9 am to 6 pm lang ang work niyo dapat, pero ginawa mong 9 am to 9 pm. 
Walang break. Walang time para sa mga mahal mo sa buhay. Walang panahon para tumigil at magpahinga. 
Marami ang namumuhay nang ganito, Breaker, lalo na noong nagsimula ang pandemic. They are the "work addicts" or  better known as "workaholics." 
The meaning of workaholic according to Vocabulary.com is, "Someone who can't stop working. Workaholics are obsessed with working to an unhealthy degree." 
Dagdag pa nila sa definition of workaholic, "Just as an alcoholic has an unhealthy addiction to alcohol, workaholics have an unhealthy addiction to work."
Workaholic in Tagalog ay, "Gumon sa trabaho."
Now, you may ask, "Am I a workaholic?"
Ito ang symptoms na puwede mong i-consider, Breaker.
Symptoms of a workaholic #1: Lagi kang nag-o-overtime kahit hindi naman kailangan.
Symptoms of a workaholic #2: Na-i-stress at nagagalit ka kapag pinipigilan kang magtrabaho.  
Symptoms of a workaholic #3: Sa trabaho na umiikot ang buhay at mundo mo. Ibig sabihin, hindi mo nakikita ang sarili mo na titigil sa pagtatrabaho. 
Symptoms of a workaholic #4: Nagkakasakit ka na dahil sa sobrang pagtatrabaho. 
Symptoms of a workaholic #5: Mas importante ang trabaho kesa pagkain, tulog, pahinga, at libangan.
Nakikita mo ba ang sarili mo sa isa sa mga 'yan, Breaker? Pero bakit nga ba nagiging workaholic ang isang tao? 
Sabi ni Mellisa Clark, there are four leading causes of workaholism: they don't enjoy their work, they find it hard to mentally disengage from work; they feel anxious and guilty if they're not working; and they work beyond what is expected from them. 
Ang iba naman, nagiging workaholic sila to avoid being depressed, or avoid dealing with negative emotions within themselves, and avoid facing challenging situations in their lives and with their loved ones. Kumbaga, nagiging escape nila ang trabaho.  
Now, is being a workaholic bad?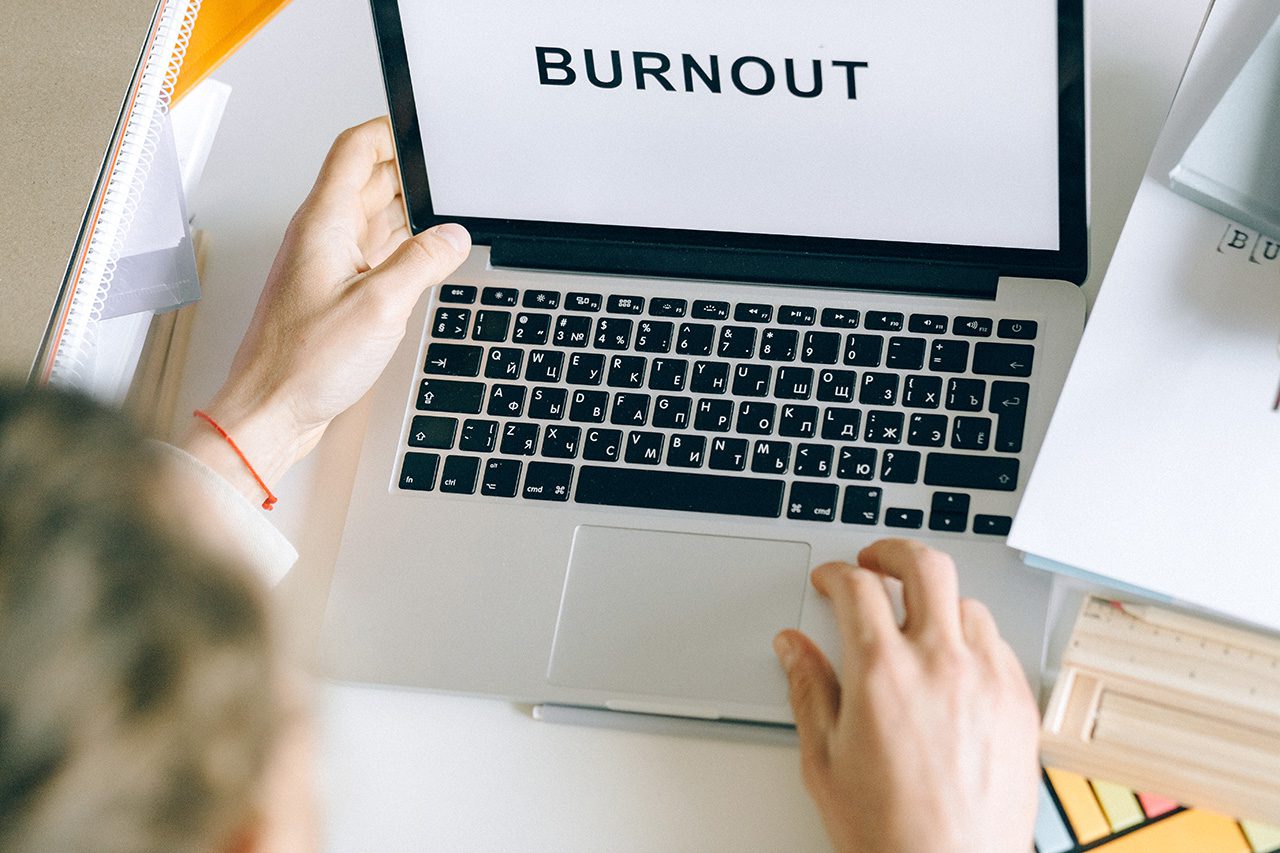 Wala namang masama sa pagtatrabaho, Breaker. But like what they said, "Too much of anything is bad." Human beings can only handle a limited amount of work, so do it in moderation or in manageable amounts. 
Being a workaholic is different from being a hard worker, mind you. A hard worker works hard and sometimes works for longer hours but not to the extent that will harm his/her health. 
Consider these signs of a workaholic from New York Post: 
Workaholics prioritize work before their personal lives.

 

They worry about work, even on a day off.

 

They have difficulties switching off while on vacation, or they simply work throughout their vacations.

 

They check emails even during the night.

 

They are the first to arrive at work and the last to leave. Moreover, the same share of the respondents feels like they are too pressured or too busy to take annual leave.

 

They skip their lunch breaks at work, while the same share feels anxious if they don't know what's going on at work.

 

They are told by friends or family members that they work too much.

 

They check emails first thing in the morning.

 
Let's acknowledge the fact that in some parts of the world, workaholism is regarded as a badge of honor. In Japan, they had a long working hour culture. Japan is also the birthplace of Karoshi, meaning "death from overwork." 
Kaya napaka-importante na pag-usapan natin ang workaholism, Breaker. Ito ang klase ng addiction na hindi illegal, pero may kakayahang sirain ang buhay ng isang tao. Many organizations and companies put emphasis on this, kaya nagkaroon ng National Workaholics Day, "to remind us to find a good balance between our home and work life." 
Malaki ang epekto nito hindi lang sa buhay ng isang tao, kundi sa mga taong nakapaligid sa kaniya. 
Effects on families. "Researchers reported that couples in workaholic homes are 40% more likely to divorce than are couples who have more balanced lives." 
Effects on mental and emotional health. "Mental and emotional consequences of workaholism may include obsessive thoughts, impatience, irritation, poor concentration, and emotional disengagement." 
Effects on physical health. "Physical symptoms may include headaches, fatigue, exacerbation of chronic diseases, stomach pain, loss of appetite, and decrease in libido." 
Workaholism and burnout. "Workaholism is related to increased work stress and burnout." 
Ilan lamang ito sa dangers ng pagiging workaholic, Breaker, pero 'wag kang kabahan dahil kung isa kang mga workaholic, masosolusyunan pa natin 'yan. 
Breakthrough from being a workaholic tip #1: Assess yourself. 
Ano kaya ang mga rason kung bakit todo-todo ka magtrabaho? Para kanino mo ito ginagawa? Breaker, importante na maging honest ka sa sarili mo dito, ha? 
Ginagawa mo ba ito para yumaman or maging successful sa madaling panahon? Kung ito ang rason mo, gentle reminder lang na may LORD ka sa buhay mo. Baka mas inuuna mo na ang trabaho mo kesa sa Kaniya, ha? We admire you for being responsible, but we hope and pray na si LORD pa rin ang Diyos ng buhay mo at hindi ang trabaho mo. 
"Commit your actions to the LORD, and your plans will succeed" (Proverbs 16:3, NLT). 
Breakthrough from being a workaholic tip #2: Regain control over your work. 
Para sa mga workaholic, ang trabaho nila ang nag-ko-control sa kanila. Madalas, feeling nila guguho ang mundo kung titigil sila sa pagtatrabaho. At kung isa ka sa mga nakakaramdam nito, we want to remind you that you have power and authority over your decisions and choices, Breaker. You are so much more than your urges, cravings, and triggers. You have power over them! 
Alam namin mahihirapan ka rito lalo na sa simula, but we are willing to journey with you! Let us know how we can help you and connect with us through the contact details provided at the latter part of this article. 
"It is useless for you to work so hard from early morning until late at night, anxiously working for food to eat; for God gives rest to his loved ones" (Psalm 127:2, NLT). 
Breakthrough from being a workaholic tip #3: Make room for non-work activities.
Makipagkita ka sa family and friends mo, Breaker! Schedule a date, a vacation, or even a volunteer work. Try to also schedule a time to just watch a movie, read a book, learn new skills, or anything that will help you detach from work. 
Remember, the world is too big and beautiful para lang ma-consume ng trabaho ang buhay mo. So, kung puno ng work-related activities ang schedule mo, make room for non-work related activities and be intentional about it. If you put so much effort and time into your work, you should, too, in non-work activities! You deserve a break, Breaker. 
"And people should eat and drink and enjoy the fruits of their labor, for these are gifts from God" (Ecclesiastes 3:13, NLT).
Breakthrough from being a workaholic tip #4: Run to the LORD for healing and comfort.  
May mga rason kung bakit na-a-addict ang isang tao sa isang bagay– it's their way to escape and to cope, and it gives them relief. 
How about you? Nagiging workaholic ka ba every time may nag-ti-trigger sa trauma or phobia mo? Sending hugs to you!  
If your answer is yes, then make a different decision when the time comes na ma-ti-tigger ka ulit. This time, run to the LORD for healing and comfort. Face your ugly emotions and feelings with Him, and allow Him to heal the deepest pains of your heart. Ask the LORD for courage to face your pains. 
Breaker, He cares for you. So, run to Him for refuge and strength, and do not escape to your work. This won't solve the issues of your heart, but when you expose them to the LORD, He is faithful and just to forgive your sins and cleanse you. 
"The LORD is close to the brokenhearted; he rescues those whose spirits are crushed" (Psalm 34:18, NLT). 
Breakthrough from being a workaholic tip #5: Obey the LORD when He says, "Rest." 
The LORD created days for work, and a specific day to rest. Kasama ito sa mga command Niya, Breaker, at hindi pa rin nagbabago hanggang ngayon.
One way to obey God? Rest. 
"So there is a special rest still waiting for the people of God. For all who have entered into God's rest have rested from their labors, just as God did after creating the world" (Hebrews 4:9-10, NLT). 
We hope that this article helps you in any way, Breaker. Don't forget to connect with us, okay? 
Lavarn lang! 
The LORD promised to give an abundant life to those who will accept Him in their lives. Will you accept His invitation? 
Message us: 0999-227-1927    
Call us: 0931-805-0802.   
Reach out to us:    
iCanBreakThrough Facebook page